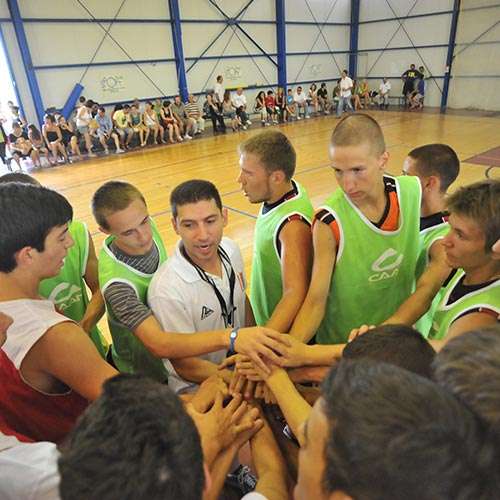 TNBA Greece, a member of SPORTCAMP Group, officially represents in Greece the leading Academy of US Basketball, "The National Basketball Academy" (TNBA), offering the opportunity to Greek basketball players to enter the NBA experience and benefit from our expertise in basketball talent development. Passionate about basketball, our coaching team designs and implements high quality services and lifetime experiences to young baskeball players, to further develop their individual techniques skills and improve their physical abilities to the maximum level. Services include Camps, Clinics, Tournaments, Basketball events, Personal Training and Elite Team development and management.
TNBA Greece focuses exclusively on basketball, aiming to develop the sport in Greece through the offered services, always according to the standards and the know-how of ΤΝΒΑ USA. Our mission is to assist the developing basketball players to improve their physical abilities and skills, strengthen their characters and flourish their personalities.
The National Basketball Academy USA (TNBA USA) is a professional basketball training and programming organization, that operates  year-round basketball programs including camps, clinics, leagues, teams, tournaments, and training. The company was founded in Cleveland, Ohio in 2003 and was quickly selected by the Cleveland Cavaliers to be the team's official youth basketball provider. Today, TNBA represents 4 NBA teams (Indiana Pacers, Houston Rockets, Orlando Magic, Milwaukee Bucks) and 1 NBDL team (Los Angeles D-Fenders) with operations spanning across the United States from Orlando, Florida to Los Angeles, California.