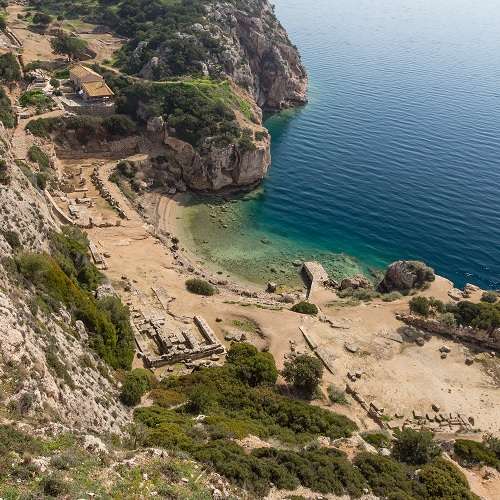 The strategic position of the city in the entrance of the Peloponnese combined with the vast history of the region that spans from almost 3.000 years B.C. until today, scatters sites and landmarks throughout the Municipality of Loutraki, Perachora and Agioi Theodoroi, including:
The famous Corinth Canal
The Heraion Archaeological Site
The Isthmian Museum
The Ancient Krommyon
The Roman Estate in Loutraki
Furthermore, Loutraki is an acclaimed sports tourism destination since the combination of the ideal climate conditions year-round and the state-of-the-art sports facilities and infrastructure in the area provide the ideal environment for both professional and amateur athletes.
In terms of location, attractions, infrastructure and themed tourism facilities available in the area, Loutraki is the ideal destination for sports tours that combine sports training with sightseeing, excursions and fun activities that will boost your Greek experience to the maximum level.
> PROXIMITY
Loutraki is a unique destination, ideal for tourism on a year-round basis, located 80km from the city of Athens and 3km from Korinthos, in the entrance of the Peloponnese. 
> WELLNESS
At the Loutraki Municipal Thermal Spa visitors enjoy special treatments which rely on the therapeutic abilities of the local thermal spring which dates back to the 2nd century B.C.
> CULTURAL ATTRACTIONS
Loutraki is within an hour's drive from renown cultural attractions including Ancient Corinth and Mycynae.