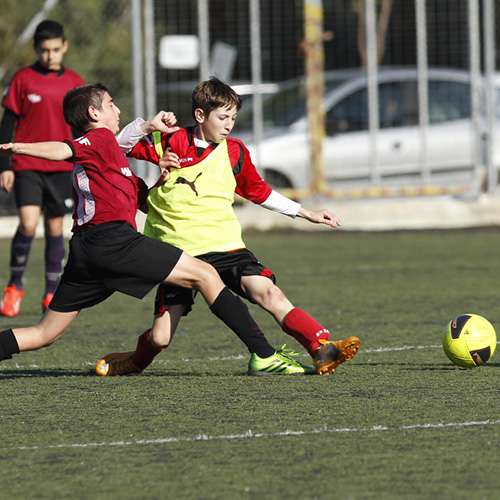 320 days of sunlight per year, contemporary facilities, vast array of services and our staff's substantial experience are a few of the reasons that SPORTCAMP is an official soccer training center, chosen from more than 100 soccer clubs to host their soccer training camps, organize their tournaments and plan and implement mega soccer events!
Our training center showcases top notch soccer facilities with recently renovated fields, upgraded with the brand new FieldTurf® Prestige XM6 60-13. The integrated Prestige XM6 60-13 turf surface now covers SPORTCAMP's soccer fields 11X11 and 8X8 , constituting both fields suitable for high-end, demanding games in many sports with Soccer being the featured one.
Thus, we are more able to organize soccer training camps for professional and amateur soccer teams, friendly matches or tournaments between your team and other soccer teams of equivalent level.
Our training camps are designed with the aim of contributing to the  development of youth soccer teams around the world. These are personalized concentration stays that have a series of services depending on the needs of the team and the club.
Indicative Services:
Accommodation
Full boarding
Top notch soccer facilities
Additional facilities - Gym, Swimming Pool, Natural Grass field and other high quality facilities are provided for training & recreation
Transfers from and to the airport
Friendly matches with local soccer teams or other international available teams
Excursions, tours, leisure activities and free time options