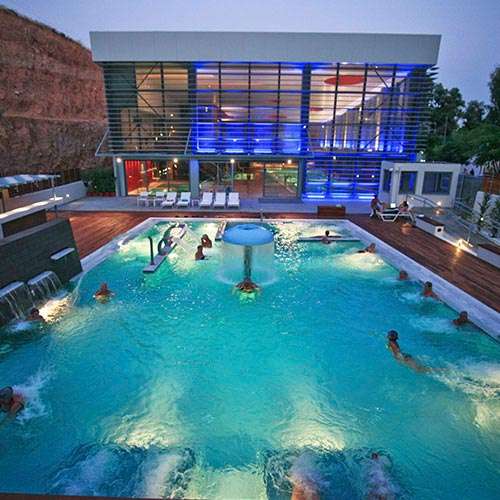 Loutraki is located in the entrance of Mythical Peloponnese, only 80km away from the capital city of Greece, Athens. Loutraki is renowned for its thermal springs, famous since Antiquity, when the city was called Thermai, in honor of Thermia Artemis. The region is also visited for its Casino and appreciated for its natural mineral waters.
At a short distance from Loutraki, you will encounter the cape of Heraion of Perachora also known as Melagavi. The cape stands alongside of the largest lighthouse of the Corinthian Bay. Important relics of the early Corinthian Civilization have been discovered in the area. The sanctuary of goddess Hera, located at the depth of the harbour, near the rocks on which the current lighthouse is built, was of great importance in its time.
In the region of Vouliagmeni, next to the Heraion, embraced by a natural pine-forest, lies one of the most beautiful lagoons in Greece, the Heraion (Vouliagmeni) Lake. The whole landscape is simply awesome, a glimpse around just takes your breath away. Discover the grace of the ancient fairy, the peaceful Lake. An island-like, sandy beach combined with a crystal clear, shallow blue sea, taverns and restaurants with seafood and premium Mediterranean gastronomy, sea sports and activities and an amazing beach-bar restaurant will showcase a dream scenery that will enchant you.
Loutraki city is a top sport destination in Central Greece, ideal for tourism year-round. The unique combination of the mild Mediterranean climate, the integrated sports facilities and health infrastructure provide the ideal environmental conditions for both professionals and amateur athletes, training camps and sports events.
The city comprises a set of unique features:
Proximity to Athens & the Eleftherios Venizelos International airport (only 80 km away).
Proximity to the most important archaeological sites of Central Greece (Acropolis, Epidaurus, Mycenae, Heraion, Sounio, Olympia, Delphi, Ancient Corinth, Mistras etc.).
The mild Mediterranean climate, the crystal clear sea water and the beautiful beaches combined with a fascinating natural environment.
The significant tourist infrastructure that presents a total of 50 hotels & 8.000 beds, among which are, the high quality, 5 star hotels Club Hotel Loutraki & Poseidon Resort.
The luxurious, Loutraki Casino, the largest one in Europe, with gaming halls of 100 tables and 1000 slot machines, offering the most modern and exciting games.
The Loutraki Municipal Thermal Spa where visitors enjoy special treatments and the therapeutic abilities of the thermal water, that the ancient Greeks discovered 2.500 years ago.
Loutraki is an acclaimed sports tours destination. The city has hosted with unrivalled success many major International, European and Mediterranean championships and tournaments.