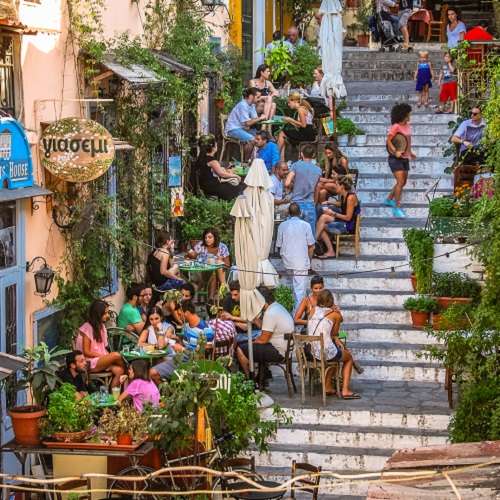 Combining sports training camps  & events with holidays in Greece, SPORT TRAVEL creates customized  travel packages that fit perfectly to the needs of international sports clubs and organizations!
SPORT TRAVEL designs and offers exclusive sports tourism packages that will turn your  visit to Greece  into a lifetime experience. SPORT TRAVEL's services are offered either in combination with the implementation of a major sports event or as completely separate sports tours travel packages in selected  destinations in Greece.
SPORT TRAVEL is the specialized Sports Tourism Travel Agency of SPORTCAMP Group offering  exclusive services full of sport moments and amazing travel experiences.
Our sports packages combine in a unique way sport services, training and competition, friendly matches, with integrated  travel services, such as transportation, accommodation, dining, entertainment, recovery, excursions and other activities.
We offer a choice of standard packages, suitably adjusted to the needs of each sport in highly competitive rates, as well as the opportunity to design your own tailor-made package that will meet the particular needs and competition level of your athletes and team.
Our experience includes cooperation with thousands of Olympic, national and other teams from Greece and worldwide. We are experts in designing, organizing and operating  the best sport tours in Greece.
Our selected destinations  provide  a wide variety of  opportunities for themed tours and excursions, so as to combine your sport training with visiting famous cultural  sites.
Discover the best tours in Greece to explore the secrets of our country and make the most of your stay! Either you wish to visit iconic destinations or go off the beaten track, we can create the most unforgettable experiences according to your quest.
Greek cultural heritage  and civilization are a tourist attraction that appeal millions of people from all over the world each and every year.
Only a few options offered in our sports tour in less than an hour away are:
the Corinth Canal
the Ancient Corinth
the Heraion archaeological site
the Vouliagmeni Lake
the Ancient Isthmia
the wineries and the archaeological site of Nemea
Options only about an hour away are:
Athens
the Acropolis
the Plaka district
the Panathinaic Stadium
Sounion
Furthermore, among your choices, half day  and daily  trips to nearby places of interest such as:
Epidaurus with the world known Ancient Theatre
Nafplion with the Bourtzi Castle and Palamidi
Delphi
Mycenae
Ancient Olympia
Spetses island
Hydra island
The range of options in potential destinations and tours for your sport tour is limitless.  We have a large number of associates spanning all over Greece and we are able to offer you sport tours in your dreamy Greek destination, whether it is Athens, the Peloponnese or one of the Greek islands.
Greece is the ideal sport tourism destination that combines:
Favorable weather conditions
High – Standard Infrastructure & services
Easy access from all over the world
World – class cultural attractions
Modern amenities
Natural beauty
Send us your brief and we will tailor a sports tour in the destination of your choice!