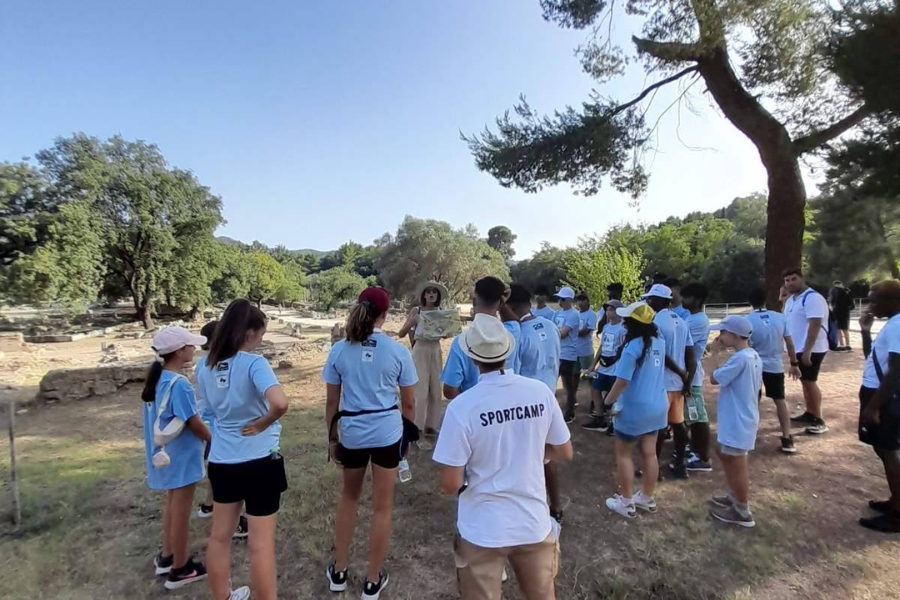 The exciting Imagine Peace Juniors Camp, designed for children and teenagers 10 to 16 years old from various nationalities, was succesfully realized at the magnificent premises of International Olympic Academy, in Ancient Olympia.
The exclusive and innovative program, was once more organized by the International Olympic Truce Centre in collaboration with SPORTCAMP, under the auspices of the Ministry of Culture & Sport- General Secretariat of Sports, the Ministry of Migration & Asylum, the Perfecture of Western Greece, the International Olympic Academy, the Hellenic Olympic Winners Association, the Municipality of Ancient Olympia and the University of Peloponnese.
It was with great pleasure and honor that the European Union, through funding from the Migration and Home Affairs Funds 2021-2027, supported and promoted the 2nd International Sports and Education program IMAGINE PEACE JUNIORS CAMP, organized by the International Olympic Truce Center, in collaboration with SPORTCAMP , from July 23 to 29, 2023, at the premises of the International Olympic Academy in Ancient Olympia, one of the most important and prominent Greek sites as well as an UNESCO world cultural heritage site.
Through this unique opportunity participants had the chance to practice ancient sports, learn about the notion of the Olympic Truce and explore how its values can influence daily life and behavior.
The participants experienced activities according to their age category: Juniors aged 10-12 and Teens aged 13-16 and enjoyed the greek summer in a fun and educational way!
The program consisted of FIVE MAIN PILLARS: Ancient Greek sports, Olympic Truce Ideals, Respecting Diversity, Leadership Skills and Friendship.
Training with champions and olympic medalists, getting acquainted with various sports, socializing and exploring the ancient greek civilization, where some of the elements of this unique camp, held in a stunning natural environment in the Peloponnese region, with all the neccessary health & safety meausures provided.
Sportcamp group is the leader in the field of Sports Tours & Camps, offering unique life experiences through sports, nature and greek civilization. It cooperates with a wide network of sports federations, clubs, schools and organizations for the provision of customized programs including education, sports training and cultural elements related to the history of Greece, hosting many groups from Europe, US and Asia every year. With more than 40 years experience and reliability, it organizes Sports Tours, Camps & Events, while having an excellently qualified and trained team.
It has been a unique experience and all of the participants made the promise to join us again in the future!
The program will take place again in 2024. Stay tuned!