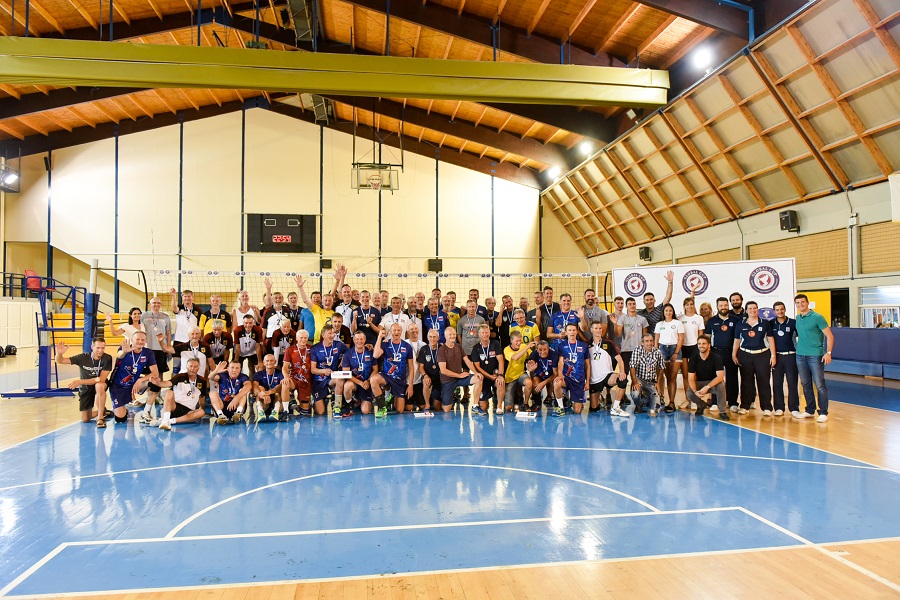 Loutraki hosted  from the 21st of August until the 25th of August 2019, the  Loutraki Global Volleyball Cup, the global volleyball event for distinguished volleyball master's athletes, which for one more year was completed in absolute success. This year the event featured 8 teams from 6 countries with more than 130 athletes and escorts.
Loutraki Global Volleyball Cup is an annual meeting of  esteemed volleyball veterans that showcase an outstanding career and performance both in team and national level, with an impressive record of participations in national teams of their countries of origin. Many of the athletes have forged special bonds and friendships between them as teammates or opponents in the volleyball courts of official events year after year. Many of the athletes and escorts travel to Greece with their families and friends combining sports with vacations in the tourist destination of Loutraki. In their free time between the games, athletes had the chance to visit attractions of the Municipality of Loutraki, Perachora, Agioi Theodoroi such as the Corinth Canal, the archaeological site of Heraion, the Heraion Lagoon, the Loutraki Thermal Spa and the Water springs.
 In honor of the delegations and their representatives, a Welcome Dinner was hosted on Wednsday 21/08 on the natural grass field at SPORTCAMP facilties with the presence of the Mayor of Loutraki, Perachora, Agioi Theodoroi, Mr. Giorgos Gkionis and the Managing Director of Sportcamp group and President of the Loutraki Tourism Organization, Mr. Spiros Karavoulis. The representatives of the delegations thanked the Municipality of Loutraki, Perachora, Agioi Theodoroi for hosting the event and congratulated SPORTCAMP for the flawless operation. Many of the athletes stated that Loutraki is their favorite destination and are looking forward to visiting every year. Impressive highlight of the event, the evening Corinth Canal and Corinthian Gulf cruise which was realized on Friday 23/08.
The main venue of the games was the Loutraki Municipal Closed Hall, G. Galanopoulos where all teams competed for four days!
Results per Age Category:
Winners 60+:
1)RUSSIA
2)GERMANY
3)NORWAY
Winners 45+
1)NORWAY
2)CANADA
3)GREECE
The event was supported by local businesses, offering special rates to athletes through a  Discount Voucher:
Corinth Canal Cruises, Spanopoulos Group, Beau Espresso Bar, Delice, Πανόραμα Restaurant, Ypanema, Voulgarelli Shoes & Zulu Bungy.
  Loutraki Global Volleyball Cup 2019 was concluded in festive mood with the finals, the medal ceremonies while athletes and coaches renewed their meeting for August 2020!