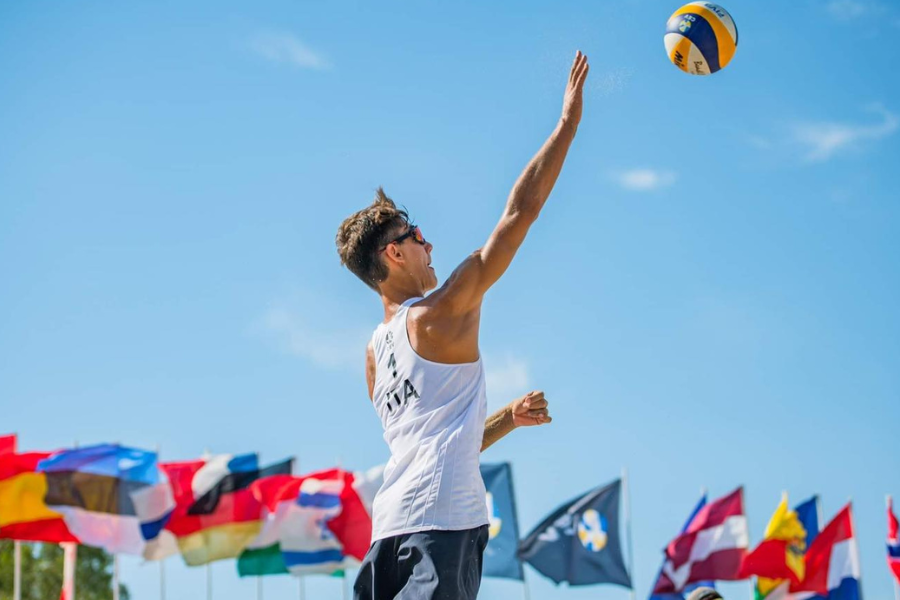 The brilliant event of  Under 18 Beach Volleyball Championship, which took place in the beautiful city of Loutraki, completed on the 4th of September, in joy, excitement and impatience for the next year!
The Sportcamp facilities hosted athletes who became European champions, 35 missions from different countries, volunteers who gave their best with their offer, as well as  wonderful people who came to watch the event and become part of it.
Four days of sporting spectacle, anxiety and professionalism, primarily of the athletes, but also of those who staffed this event.
Its end came with the awards, in an atmospheric climate, with the magical sight of the sunset, and with smiles created through this special moment.
Those who succeeded in the male population to win the gold medal, were the Latvians Fokerots and Auzins. They followed holding the silver medal by the Danes Madsen and Brink, while the bronze was given to the Belgians Hamblet and Hendrix.
In the women's category, the Czech twin sisters Pavelkova with their fighting spirit touched the top. In second place were the Austrians Berger, Hohenauer, and the final bronze, but not least, went to the Belgians Bevo, Bex.
The awards were attended by Mr. Nikos Kerassovitis, General Manager of Sportcamp Group, the Mayor of Loutraki-Perachora-Agioi Theodoroi, Georgios Gionis, the vice-mayors Mr. Tasos Sakellariou and Mr. Thanasis Papathanasiou, Mr. Nektarios Halvatzis, (General Secretary E. O.PE)., Thanasis Rerras, (Member of the C.E.V. Beach Volleyball Committee), Mr. Thodoris Kanellopoulos, (President of the Peloponnese Volleyball Association).
The closing ceremony of the Championship was completed with special awards. E.O.P.E. awarded an honorary plaque to the General Manager of the Sportcamp Group, Nikos Kerassovitis, for the co-organization of the European Beach Volleyball K18 championship. An honorary plaque was also given to the Mayor Mr. Giorgos Gionis.
The event was completed with absolute success, a fact that was mainly confirmed by the absolute protagonists, the athletes who participated: "Finally we succeeded. Last year we came close but lost in the final and we really wanted to win. Loutraki is a fantastic city, we lived next to the sea and everything was organized. The facility was amazing and we had a very nice week that ended in the best way" said the Latvian Fokerots, Auzins shortly after winning the final.
We hope that such events will take place over time, so that we can experientially develop the feeling of sports and interact with people from other countries!
See HERE photos from the event.