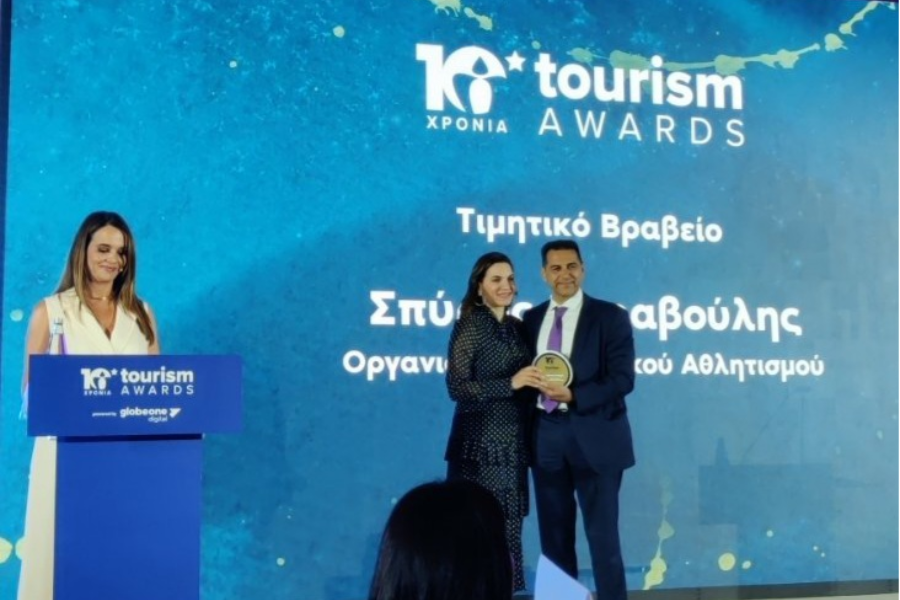 At the impressive ceremony of this year's TOURISM AWARDS, the leading tourism awarding institution, the President and CEO of SPORTCAMP, Mr Spyros Karavoulis, received an Honorary Award!
Mr. Karavoulis, who simultaneously holds the position of the President of the Organizing Committee of the World Company Sport Games 2021 and the European Company Sport Games 2027, was awarded for his contribution to the development of Company Sports in Greece, receiving the relevant award from the former minister of Tourism Ms. Olga Kefalogianni, at the ceremony that took place on Thursday, April 27.
"The successful organization of major sporting events at global and pan-European level, the systematic connection and strengthening of the link between sports and work, as well as the two-way offer and cooperation with important bodies of company sports in Europe and the world, have highlighted the Hellenic Organization of Company Sports and Health, to a strong supporter, trusted organizer and undisputed pioneer of the institution", said Mr. Karavoulis, thanking the organizers of the Tourism Awards for the honor.
The participations in the Tourism Awards were numerous and included well-known companies from all over Greece that are active in the field of tourism.
This recognition of the Organization's offer, honors Sportcamp Group in whole and gives us even more strength for the future, which is expected to be exciting and always of a high level!